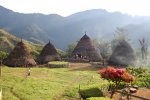 The journey to Waerebo Traditional Enclave can begin from Labuan Bajo or Ruteng, using public transport or by renting a car. It is 158km, or about 5 hours, from Labuan Bajo to the small village of Denge plus an additional 9 km, approximately 5 hours trekking, to Waerebo Traditional Enclave. The distance from Ruteng to Denge is 88 km, or about 2.5 hours. Before beginning the trek, visitors spend one night in a home stay prepared by the community.Tours West Flores, West Flores Tour. According to the West Flores People that, Flores Island means 'Flower Island' and it's truly not dissimilar to a beautiful bouquet. There are still many interesting locations on the island that can serve up natural beauty, original culture and the daily dynamic of community life.Flores holds a certain uniqueness, stemming from the landscape, traditional ecological knowledge and culture persist in the middle of an accelerating current of change. Around the west, that uniqueness is mirrored in the Caci, the whip dance which is entertainment for nearly all Manggarai men.
Lately, this entertainment has taken the form of a fascinating performance for tourists. Although in this era, experts emphasize a sacrificial philosophy, people more often talk about the Caci as a symbol of Manggarai sportsmanlike characteristics, brotherhood, and as part of their culture and art. Also in this area is Waerebo, the only village to have maintained original examples of round houses with conical straw roves (mbaru niang) in all of Mangarrai.
This all goes to show that the west of Flores not only relies on komodo, the giant ancient lizards that have motivated habitat protection and world heritage status. As much as genuinely caring for the environment, the Manggarai desire heritage tourism to stimulate the economy. However, before moving too quickly, the community has prepared in a manner not to stutter when facing change. Since five years behind, Equator tours has a spirit and motivation to promote of nature, culture and original daily life of local communities, which have been managed by local community groups independently, and can be seen, enjoyed and learned from by visitors from all countries who come to the west of Flores Island, especially to these locations:
* Waerebo enclave located at the peak of Poco Roko mountain and surrounded by
the still original and natural forest of Todo.
* Sanggar Caci, Liang Ndara village on the slopes of Mbeliling Mountain.
* Nunang village on the banks of Lake Sano Nggoang, surrounded by the Sesok
protected forest and at the foot of Poco Dedeng Mountain.